So Arsenal hop back into fourth spot. Here's how the Champions League race shapes up after today:
Full-time: West Ham 1-2 Arsenal
Peep! PEEP !! PEEEEEEEP !!! All over! A vital three points for Arsenal after a very odd (and decidedly low-quality) game.
90 + 4 min: Nketiah does really well to hold the ball up and win a free-kick after Holding heads clear.
90 + 3 min: Lokonga launches an effort off towards the velodrome after a quick Arsenal break.
90 + 1 min: Cresswell was also booked for his part in the melee. And Odegaard is off to be replaced by Lokonga.
90 min: Nketiah is booked for preventing West Ham from taking a free-kick. And that sparks a flurry of handbags. Declan Rice, in particular, has lost his rag rather spectacularly.
89 min: Fabianski launches a free-kick forward but it's straight out of play for a goal kick.
87 min: Saka, who took a whack a few minutes ago, limps off to be replaced by Smith Rowe.
85 min: Arsenal clear after a bit of head tennis in the box.
83 min: It's all gone very scrappy again, which suits Arsenal down to the ground.
81 min: Another Hammers change: Benrahma off, Yarmolenko on.
79 min: Fine save from Fabianski again! Coufal hands possession to Nketiah, who again cuts in from the left and looks to curl one into the far corner with his right. The West Ham keeper is equal to it… and claims the resulting corner.
77 min: A second West Ham change: Mark Noble comes off to be replaced by Tomas Soucek. And for Arsenal Cedric replaces Tomiyasu, who has hobbled off.
76 min: Zouma calmly deals with the danger as Nketiah looks to skitter past on the outside. The pattern seems to be set at this point – West Ham on the front foot, Arsenal dangerous on the break.
74 min: Elneny thunks an effort yards over the bar from the edge of the box.
73 min: And Arsenal break but Nketiah whips a fine chance just wide of the far post with Fabianski beaten. That was a huge chance to put this game to bed.
72 min: Benrahma does well to dig out a cross from the left, but Fornals' volley thumps into the shins of Holding.
71 min: And here comes a change for West Ham: Antonio replaces Lanzini.
70 min: Both managers must be thinking about a sub or two at this point. Gone very flat again for both sides.
68 min: Bowen tumbles again as he tangles with Holding but Mike Dean is again unmoved.
66 min: Pass, pass, pass from Arsenal. Passpasspasspasspass…
64 min: West Ham have weathered that mini-storm and are back in control of things, Rice to the fore.
62 min: Xhaka, who is having one of those games, gives the ball away inside his own half. A few passes later, Holding has to head away Benrahma's cross.
60 min: Nketiah's turn to test Fabianski now, but his effort is well claimed by the keeper. West Ham are just wobbling a little here as Arsenal up the intensity.
58 min: Martinelli flings an effort at goal from distance but it's well over the bar.
56 min: West Ham will be kicking themselves here. Two set-piece goals conceded. Perhaps that's what happens when you're so stretched defensively – you can come up with a system to cope in open play but you can't disguise the weakness from set plays.
GOAL! West Ham 1-2 Arsenal (Gabriel 54)
The Gunners are back in front! Saka's corner is cleared to the far post, where Martinelli whips it back in. Gabriel has the freedom of the six-yard box and plants his header into the net off Fabianski's thigh.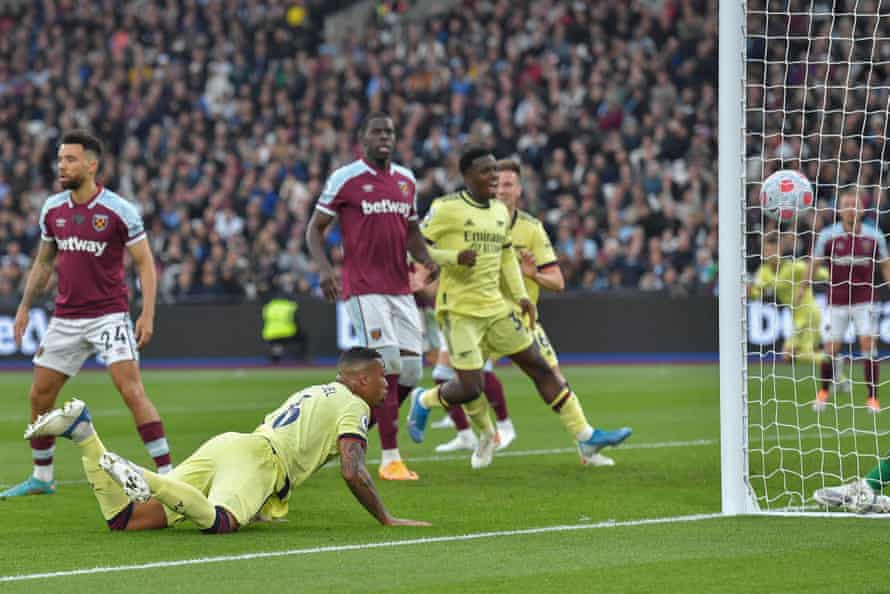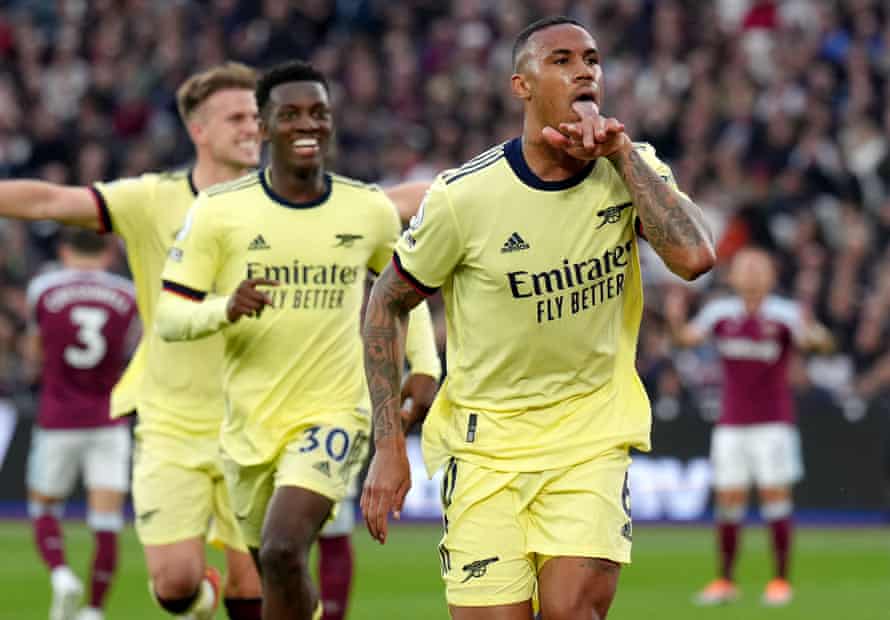 53 min: Fine save from Fabianski as Saka looks to beat him at his near post. Arsenal corner
51 min: Bowen goes into the book now for diving! Ramsdale charges wildly out of his goal as the West Ham man looks to get on the end of a throughball and the West Ham man dinks the ball away before tumbling to the turf. Pretty ridiculous stuff but well spotted by the officials.
50 min: Again Arsenal are sloppy in possession inside their own half, and West Ham have a throw in.
49 min: Saka goes into Mike Dean's book for a cynical trip on Bowen in midfield.
47 min: Benrahma sees his shot blocked by Holding as he cuts inside from the right. West Ham have started this half the better too.
Peep! And we're off again. "I see you refer to the West Ham captain as 'Nobile' (min 25)," writes Peter Bowles. "If this is the opposite of mobile I make you about right. Still a legend though. "
The players re-emerge for the second half to the tune of "The Game", Triple H's entrance music from the WWE. Do Arsenal have the pedigree to win this one, or will West Ham turn out to be the cerebral assassins? Let's find out!
Half-time: West Ham 1-1 Arsenal
Well, a pretty dismal contest sparked into life after 38 minutes. Holding nodded Arsenal into the lead then visitors spent the rest of the half willing West Ham to draw level, which they duly did. More wackiness in the second half please!
GOAL! West Ham 1-1 Arsenal (Bowen 45)
Well, that was coming. Coufal again has acres of room on the right. He volleys an awkward cross into the box. Bowen takes a touch, which bobbles up, then zips his effort past Ramsdale via Gabriel's backside.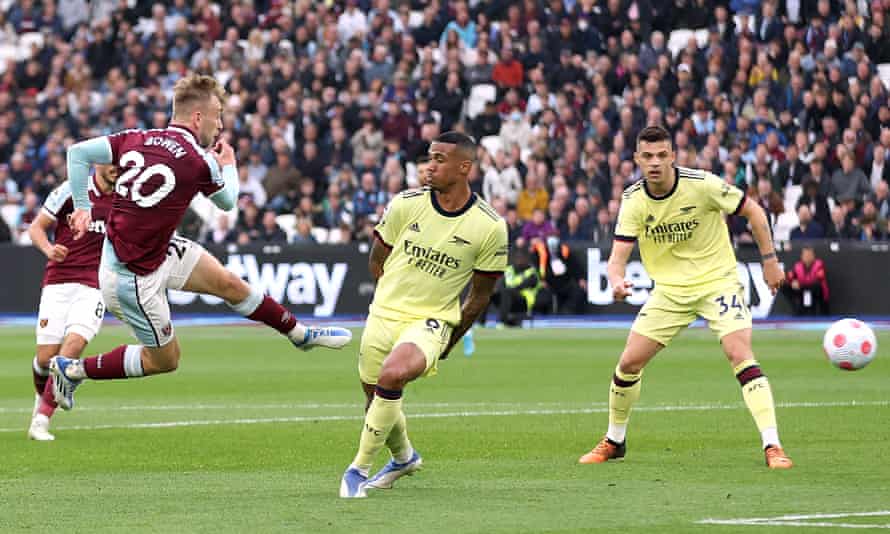 44 min: Arsenal have been i know sloppy in possession at times and again West Ham are handed the ball inside the Arsenal half without having done anything to earn it. Fredericks' cross finds Fornals this time and though West Ham can't fashion an opening, the pressure is on.
43 min: … But an Arsenal head gets to it this time.
42 min: Holding heads away from in front of his own goal as Coufal sends another threatening ball into the area. Another West Ham corner
40 min: What a save this is! West Ham's turn to threaten from a corner. Rice glances on at the near post and Ramsdale has to react quickly to claw the effort out of the top corner. This match has gone from 0-100 in the last three minutes.
GOAL! West Ham 0-1 Arsenal (Holding 39)
Well, I didn't see that coming! The corner is whipped in – Holding gets across his man at the near post and glances his header into the far corner.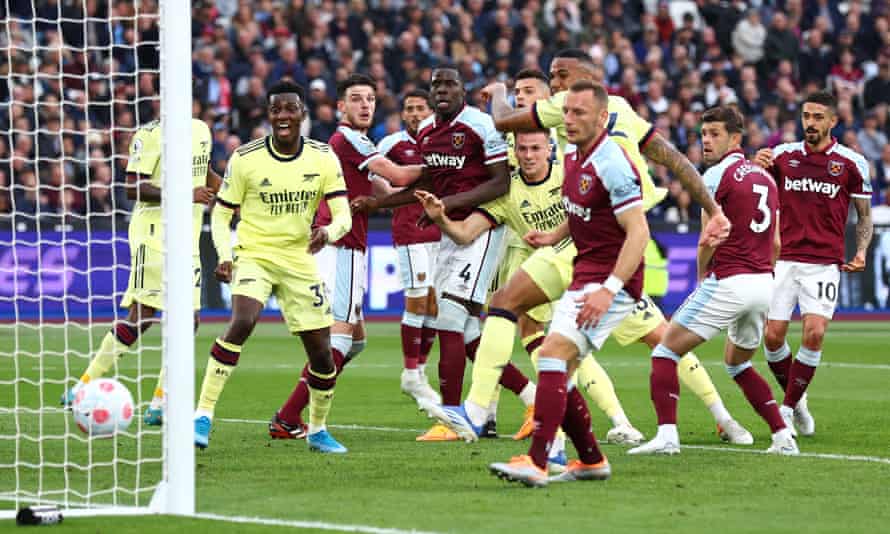 38 min: Fine save! Fabianski does well to get across to Nketiah's low effort. An Arsenal corner
37 min: Tavares rumbles forward through the middle but seems to get stage fright as he enters the final third and is crowded out.