05.45
Energy bosses warn of expected increase in UK fuel poverty
Energy bosses have warned of significant increases in the number of British houses falling into fuel poverty in the coming months, amid rising energy bills.
Speaking to MPs on the business, energy and industrial strategy select committee parliament, the chief executives of several energy suppliers said there were signs of more customers concerned about payments.
Michael Lewischief executive of E.ONsaid:
We are expecting a severe impact on customers' ability to pay.
That will see a "significantly larger number of people moving into fuel poverty […] and a consequent significant increase in bad debt, "he said.
Government action "isn't nearly enought to mitigate the full impact of the price increase," Lewis said.
E.ON expects the debts of customers to increase by 50%, or 800m, up from £ 1.6bn now.
EDF has seen a 40% increase in calls from customers worried about their debt.
Simone Rossi, EDF chief executive said:
We are concerned about what is in front of us.

Unfortunately pre-payment customers are being hit first.

We now see bills being higher for longer, so I would expect the government to reassess in a short order to see what is possible.
09.12
IMF downgrades global GDP growth forecast from 4.4% to 3.6%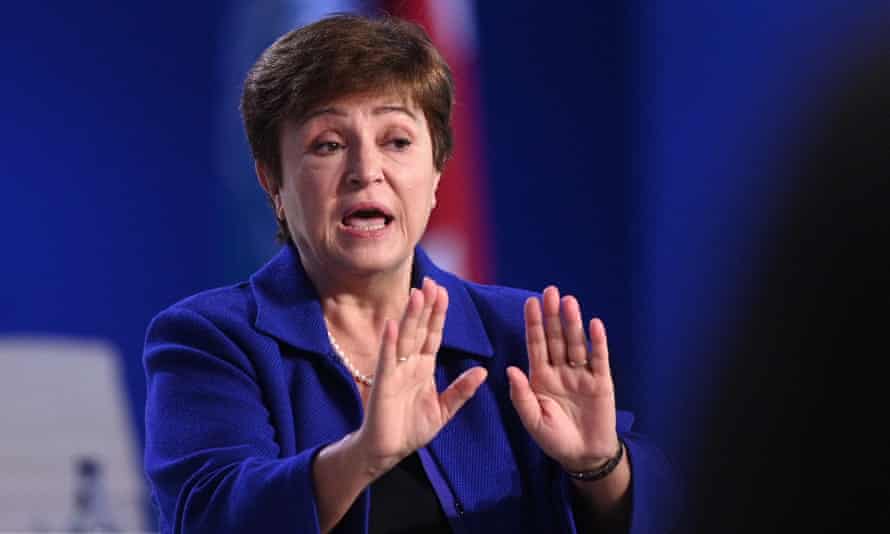 The International Monetary Fund has cut its global growth forecasts because of the war in Ukraine, warning that Russia's invasion could lead to fragmentation of the world economy into rival blocs.
In a half-yearly update, the IMF said prospects had worsened "significantly" in the past three months as it reduced its growth estimate for 2022 from 4.4% to 3.6%.
The Washington-based body said every member of the G7 group of leading industrialized nations and the larger developing countries would grow less rapidly this year than previously expected, and there was a strong risk of an even worse outcome.
You can read the full report here: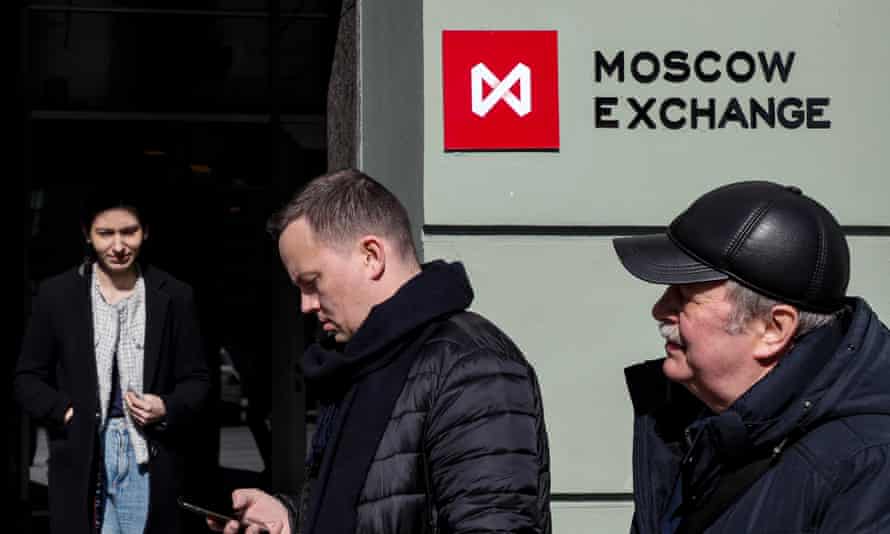 Another step in the decline in UK-Russia relations: the Treasury has said it plans to revoke the Moscow Stock Exchange's status as a recognized stock exchange in response to Russia's invasion of Ukraine.
The move which would remove some tax relief for investors, according to Reuters. Yet it is the symbolism that is arguably more important, after two decades during which the UK pushed for closer links between the City of London and Russia. In particular, 31 companies – including some of the titans of the Russian state-controlled energy complex – had share instruments listed on the London Stock Exchange.
The UK's financial secretary to the Treasury, Lucy Frazersaid in a statement:
Revoking Moscow Stock Exchange's recognized status sends a clear message – there is no case for new investments in Russia.
For all the concerns about supply chains and concerns over a possible US recession, it looks like the US housing market is motoring along.
US housebuilders started on 1.79m new homes in March, nudging up from the previous month and nearly 50,000 more than economists expected, according to the US Census Bureau.
But then again we already knew that external shocks are the biggest lights flashing red on global economists' radars.
When did you realize you were out of your depth? asks Conservative MP Richard Fuller.
We realized in the fall of last year that it was a very challenging time for the company, and we needed to change the fundraising process to a sale process, Wood says.
Darren Jones says he senses Wood's personal regret over the business's failure, but asks did you know it was a high-risk model? Wood says:
I can assure you we have never adopted a high-risk approach and were willing to risk the company failing.

Up until the autumn of last year we had not seen a significant risk.

Hindsight is a wonderful thing, but with the benefit of hindsight what we would have done is begin those funding conversations sooner, complete a funding round in 2020 during the pandemic, have increased collateral and be able to hedge out for longer periods of time.
We didn't object to takeover offers before the collapse in search of a higher valuation, Wood says.
He says he cannot give a view on what the administrator will do if no sale is agreed in the next few months.
After a long pause, he says: "I don't think it's responsible for me to share details of a sales process that is ongoing in a public forum."
Wood is asked about his continued salary of a quarter of a million pounds. Labor MP Andy McDonald asks: "Is that morally justifiable?"
Wood says he is doing everything he can to minimize the costs to taxpayers.
"Quite frankly I think a lot of us find that absolutely staggering," McDonald says.
Wood argues that Bulb collapsed in part because it was unable to access hedging markets of larger rivals.
That meant it was unable to hedge against the big rises in wholesale energy prices that caused chaos in the industry – and pushed 29 suppliers into bankruptcy. Bulb is the biggest casualty so far.
Wood argued that it was taken by surprise, like other suppliers. "We saw the business model as very realistic," he said.
He added: "We were not using customer credit balances to finance growth."
07.12
Bulb founder apologizes for company collapse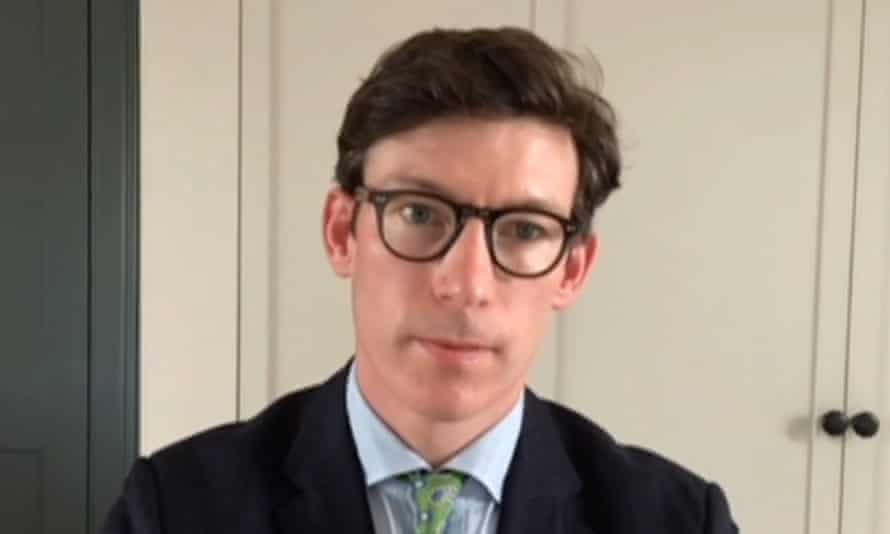 Next up in front of MPs is Hayden Wood, chief executive and co-founder of Bulb Energy, the energy provider which collapsed in November. The collapse has meant that taxpayers have had to put aside £ 1.7bn.
Wood said:
I am very sorry with the way things turned out with Bulb.
Darren Jones, the chair of the business committee, has asked how much money he has invested. Wood said he put in "all of my personal savings in 2015".
Jones then asked about his salary. Wood responded that it remains £ 250,000 per year – the same as before the company's collapse – after he was asked to stay on by administrators.
In related news, oil markets have been jumpy on Tuesday – benchmark North Sea crude prices have dropped by 1.4%.
Brent crude had only dipped earlier on Tuesday morning, but has now fallen by $ 1.50 per barrel to $ 111.72. West Texas Intermediate, the North American benchmark, is down by 1.5% to $ 106.51.
Among the significant moving parts at the moment are supply worries from Libya and uncertainty over when Shanghai's industry will restart fully amid strict lockdowns. Reuters reported:
Oil prices see-sawed on Tuesday as investors fretted over tight global supplies after Libya halted some exports and as factories in Shanghai prepared to reopen post a Covid-19 shutdown, easing some demand worries.

Prices came under pressure with the dollar trading at a fresh two-year high. A firmer greenback makes commodities priced in dollars more expensive for holders of other currencies.
One of the big political issues during the cost-of-living / energy crisis has been whether the UK should introduce a windfall tax on oil and gas producers whose profits are in many cases booming.
Unsurprisingly, the fuel producers are against that.
Chris O 'Sheachief executive of Centricawhich also owns oil and gas production in Norway, said:
A one-off windfall tax has I think in the past been shown to deter investment, so I would suggest a root and branch review of that and then decide what best gives us the outcome that we're looking for.