Chelsea 2-3 Liverpool Mendy got a hand on it, diving to his right, but he couldn't keep it out!
Chelsea 2-2 Liverpool James flips it gently down the middle as Alisson dives right.
Chelsea 1-2 Liverpool An absurdly nonchalant penalty, steered in off the post.
AZPILICUETA HITS THE POST!
Chelsea 1-1 Liverpool He struck it well but it smacked off the outside of the right-hand post.
Chelsea 1-1 Liverpool A fine penalty. Mendy went the right way, to his left, but it was lifted over him.
Chelsea 1-0 Liverpool A good penalty; he sent Alisson the wrong way.
The penalties will be taken in front of the Chelsea supporters. And Chelsea will go first, Marcos Alonso to be precise.
The Carabao Cup final shootout was Kepa v Kelleher. Today it's Mendy v Alisson.
"I've been thinking about it," says Nath Jones, "and I reckon if I'd've been brought on instead of Firmino, I don't think I've'd had less of an impact."
Henderson gave him a spectacular volley at one point for his lack of movement. I think it was Firmino anyway.
As 0-0 draws go, that was pretty good. Extra-time was a non-event, with both teams obviously tired, but the first 90 minutes were excellent. Marcos Alonso, Luis Diaz (who was marvelous) and Andy Robertson all hit the woodwork, and both teams can make a reasonable case that they deserved to win.
Full time in extra time: Chelsea 0-0 Liverpool
For the second time this season, a cup final between Chelsea and Liverpool will be decided by a penalty competition.
120 min The last FA Cup final to go to penalties was in 2006; that's also the last time Liverpool won the competition.
119 min Loftus-Cheek isn't chuffed but he seems to understand and accept the decision.
119 min: Chelsea substitution Ruben Loftus-Cheek, who only came on at half time in extra time, is replaced by Ross Barkley. He's not injured, as far as I can tell, so it must be with penalties in mind.
116 min James is penalized for holding Tsimikas down the Liverpool left. The resulting free-kick amounts to nowt. Even with nine substitutes on the field, the game has ground to a halt.
114 min Nothing much is happening. I don't think the teams have consciously settled for penalties; they're just knackered.
114 min "This is now like a chess match played on a really, really big board," sighs Ian Copestake.
113 min Chelsea still have one substitution left, in case you've got money on Kepa.
111 min: Liverpool substitution Kostas Tsimikas replaces Andy Robertson at left-back.
109 min Chelsea's front three is now Ziyech left, Mount right and Loftus-Cheek at center forward. Ziyech tries to tease Matip, who dispossesses him expertly just inside the area.
107 min Ziyech appeals again for a penalty, this time after an off-the-ball challenge from Alexander-Arnold. The referee isn't interested. Alexander-Arnold definitely pulled him back by the arm, but again it was just outside the area so it's none of VAR's business.
106 min Liverpool begin the second period of extra-time. Chelsea have made a double substitution: Ruben Loftus-Cheek and Cesar Azpilicueta for Trevoh Chalobah and Christian Pulisic. It looks like Loftus-Cheek has gone up front.
Half time in extra time: Chelsea 0-0 Liverpool
This is going to penalties. Both teams are shattered.
105 min Milner wins a corner for Liverpool. Both teams look weary now. Alexander-Arnold's outswinging corner is punched away with authority by Mendy, and that's that.
103 min Alonso's corner is headed over by Thiago in front of the near post. Not much of a chance.
102 min Ziyech's free-kick is missed by the stretching Pulisic and headed behind for another corner by Milner (I think).
102 min Mount is fouled on the left wing by Thiago, an unnecessary free-kick to give away. Ziyech strolls across to take it …
100 min Ziyech's terrific inswinging cross is carefully cushioned behind by Alexander-Arnold, a good piece of defending. Mount's corner is headed away by Milner.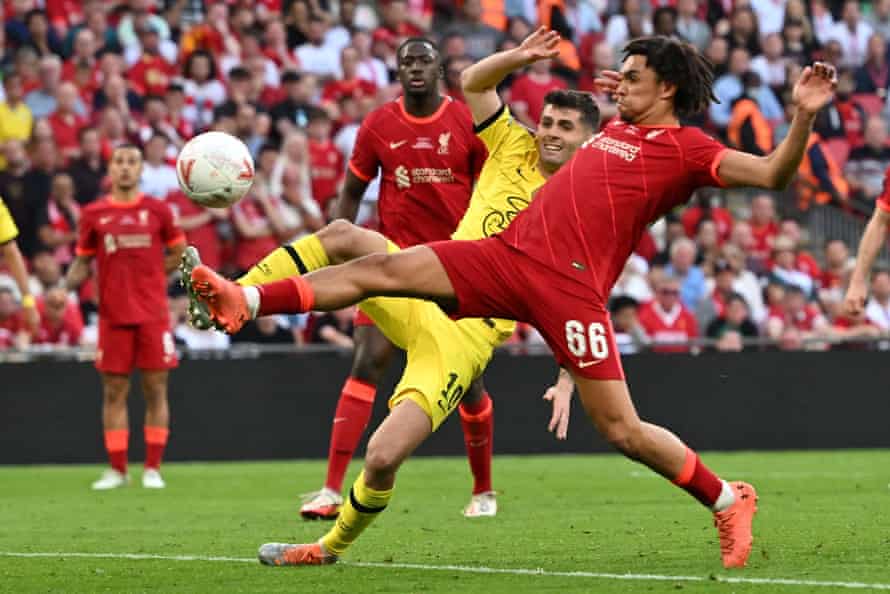 99 min Firmino has gone up front, with Mane moving left. At the other end, Mount curls wide from 20 yards after receiving a deep cross from James.
98 min: Liverpool substitution Roberto Firmino replaces the quite outstanding Luis Diaz, who gets a meaty hug from Jurgen Klopp. I think that might be fatigue rather than injury.
97 min Mane slips Thiago superbly on the halfway line, but Rudiger zooms back to muscle him off the ball and clears the danger. Great defending.
95 min Chelsea appeal unsuccessfully for a penalty when Ziyech goes over after a shoulder charge from Konate. It was a slightly risky challenge from Konate, though it was probably just outside the area.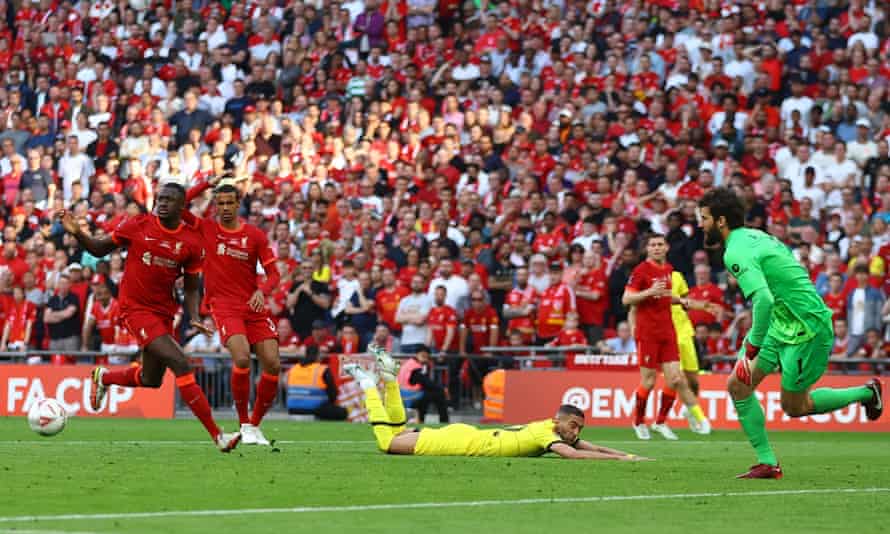 94 min James surges forward and stabs a pass to Pulisic, who moves into the area and is about to line up a shot when Matip comes across to make a fine interception.
93 min If this goes to penalties, I wonder if Thomas Tuchel will bring Kepa on again. Thing is, despite everything, there is a case for it. Not that I'd do it, mind.
91 min Peep peep! Chelsea start extra time, and Liverpool have replaced Virgil van Dijk with Joel Matip. That's another worry for Liverpool with the Champions League final in mind, not to mention the ongoing FA Cup final.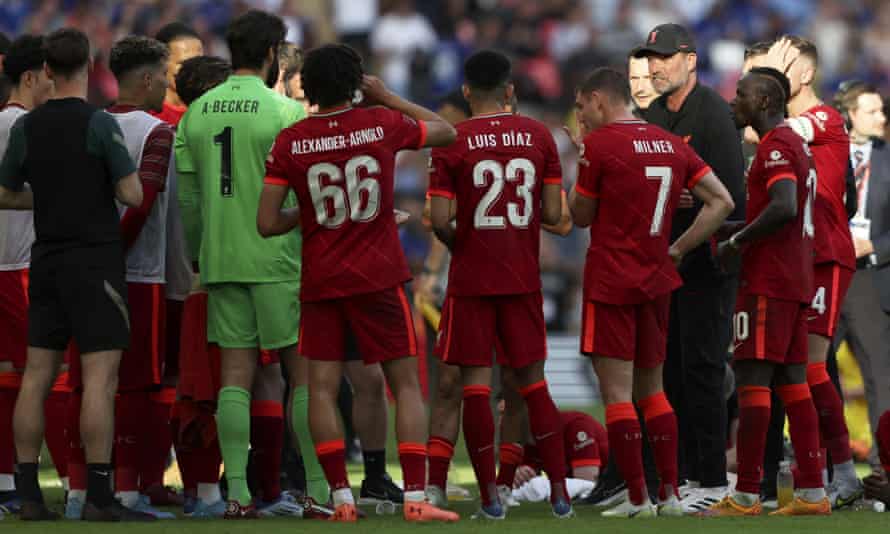 Full time: Chelsea 0-0 Liverpool
In a surprising development, Chelsea vs Liverpool is going to extra-time. Both teams hit the woodwork in a lively second half, Liverpool twice in a minute, but somehow the scorers remain untroubled.
90 + 2 min Three minutes of added time. Chelsea are hanging on. A quick free-kick is taken to Alexander-Arnold, whose deep cross is helped back across goal by Diaz. Mendy blocks that and then dives in front of Konate to grab the loose ball.
90 min: Just wide from Diaz! Sheesh, that was so close to a winning goal from arguably the best player on the pitch. Diaz picked up a loose ball in the center circle and hared away from the last man Thiago Silva. Thiago did well to keep pace, so Diaz cut back inside on his right foot, 20 yards from goal, and formed a lovely curling shot that drifted just wide of the far post. I don't think Mendy would have gotten there.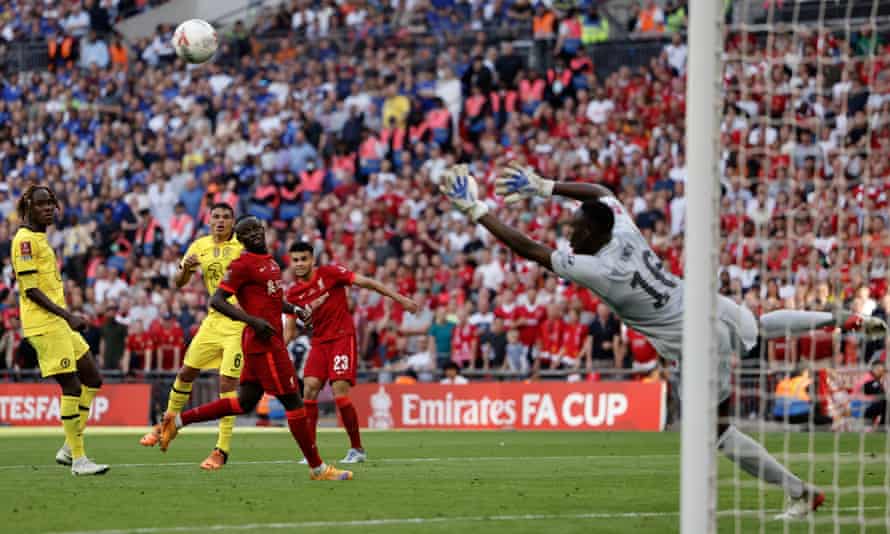 89 min Liverpool look the likelier winners in normal time. With one or two exceptions, Chelsea have struggled to get out in the last 10-15 minutes.
88 min Alexander-Arnold's free-kick is headed over by the stretching van Dijk. It was about an eighth of a chance, if that.
87 min Chelsea's front three is now Ziyech on the right, Mount on the left and Pulisic in the middle.
86 min "Cognitively I'm shot," writes Ian Copestake. My brain needs substituting. "
85 min: Chelsea substitution Hakim Ziyech replaces the disappointing Romelu Lukaku.
84 min: Now Robertson hits the post! Diaz drives a crossfield pass to Milner on the right. He takes a touch and curves a wicked, deep cross that is volleyed onto the post by Robertson! That was a great chance. He was only a few yards out, but I think the ball hit the bottom of his shin rather than his boot.
83 min: Diaz hits post! Jota and Mane combine to find Diaz on the right side of the area. He drags the ball away from Rudiger with a superb first touch and hits an instant shot that beats Mendy and thumps the outside of the near post.