That's 45 wins in succession for Barcelona. Incredible.
Full-time: Barcelona 5-1 Wolfsburg
That may have been the first time Barcelona have ever beaten Wolfsburg but there was such a gulf in class on display at the Camp Nou. But for Schult in the German club's goal it might have been ten. Barcelona are a winning machine, and that record crowd has been watching a vintage display from an all-time great team. The final looks like their destiny, even when there's a second leg to come.
90 + 4 min: Barcelona want more more more – mes mes mes? Wolfsburg must be dog tired, they have chased shadows all night.
90 + 2 min: That crowd by the way, is bigger than that record Real Madrid crowd of 91, 553. What a night, and what a display by the home team.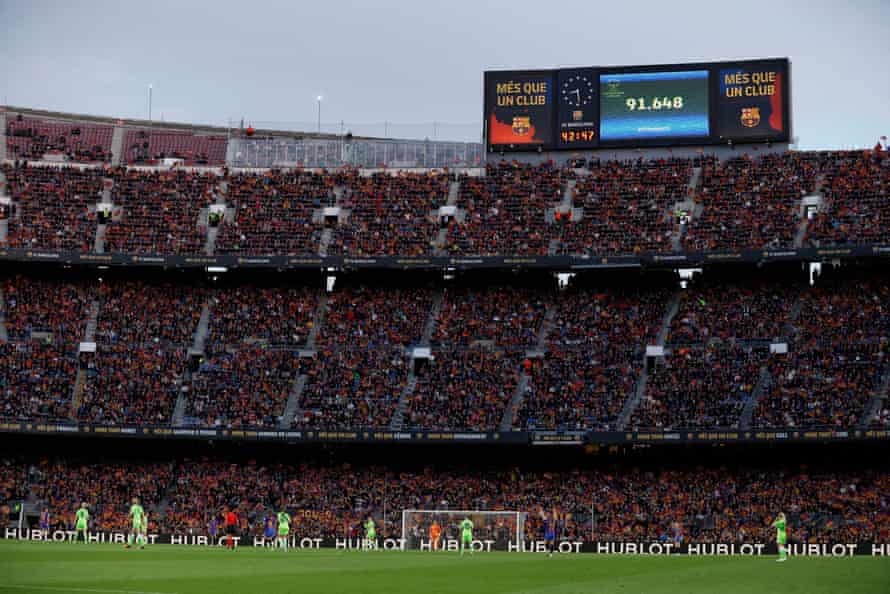 90 min: Graham Hansen also went off, on comes to defend Ouahabi. Five minutes are added on.
89 min: The attendance is in 91, 648, and Graham Hansen claps the scoreboard revealing that number – and the fans. Off goes Putellas, on comes Engen.
87 min: A lull in play as Graham Hansen seems to have taken a knock. Though she is fine to continue.
Goal! Barcelona 5-1 Wolfsburg (Putellas, 85)
It was taken well, to the right of Schult who this time had no answer. That was quality play that forced the penalty, and the world's best player was never going to miss.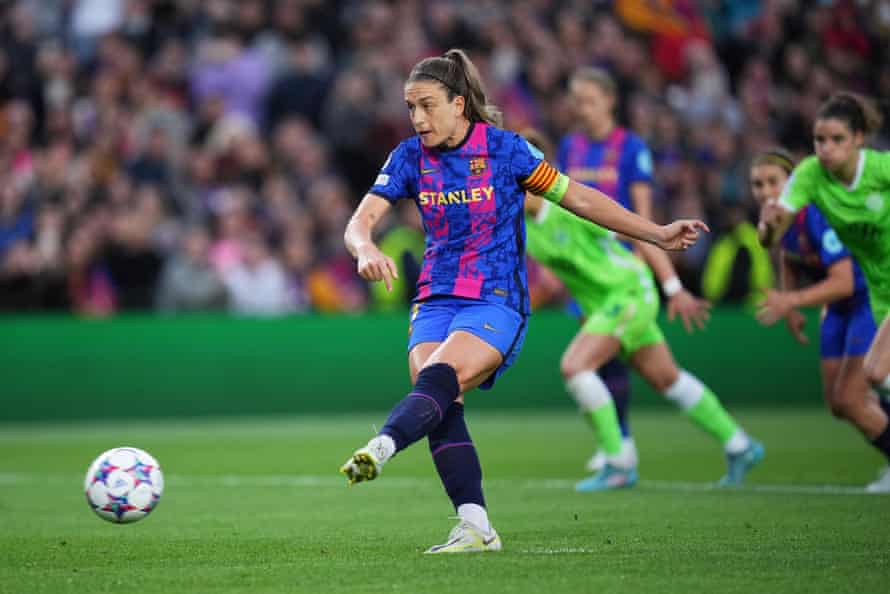 Putellas is pulled down by Janssen, having shifted the ball from foot to foot and gets knocked over.
82 min: Another fine save from Schult as Putellas plays in Oshoala, and the angle is again closed down. Then another from Putellas.
81 min: Barca sub as Caldentey comes on to huge applause and Bonmati goes off. Oshoala, another sub, goes close and might have done better though Schult narrows the angle well. The Wolfsburg goalie has been a contender for player of the match.
79 min: There's a Mexican wave on in the stadium, which suggests the crowd is bored. Not sure why, the football continues to be of high quality.
77 min: Off goes the Wolfsburg goalscorer Roord, and on comes Blomqvist.
76 min: Barcelona want to restore that four-goal margin. Oshoala is very quick and it takes some desperate defending to stop her.
74 min: Barca make those changes. Pina and Oshoala on, and off go Hermoso and Crnogorcevic, Pina almost making an instant impact by hitting the woodwork as she comes on.
Goal! Barcelona 4-1 Wolfsburg (Roord, 73)
Jill Roord has the ball in the net, Waßmuth's pass sends her through and she converts. There's a VAR flag on the play, and it looks very close. It takes some time, too. A wait approaching 90 seconds, maybe more. Actually, make that way more. And it stands after all that. Wolfsburg have a lifeline.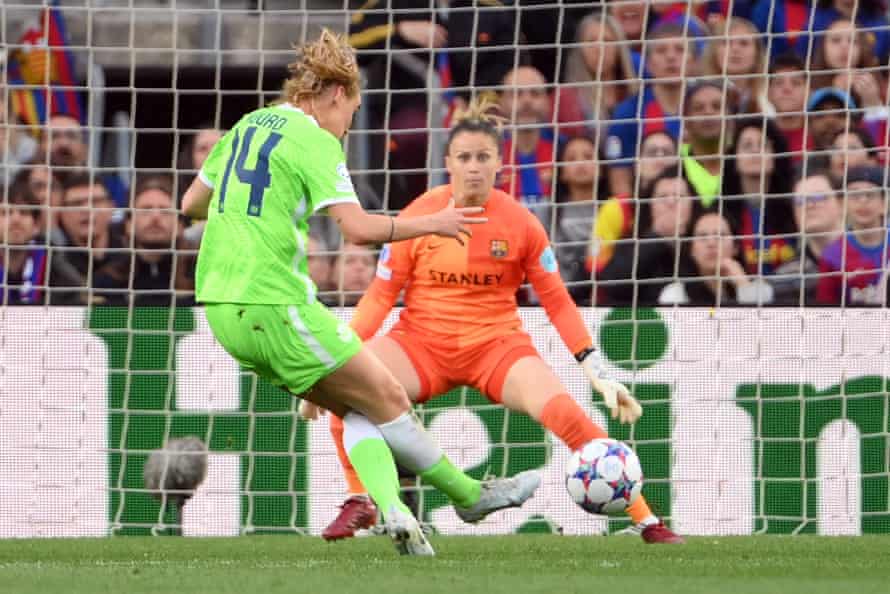 70 min: Wolfsburg defending doggedly now, and Barcelona are going to bring on a couple of subs to further cement their control of the tie.
68 min: Barcelona also showing off their mettle defensively by hassling Wolfsburg out of possession whenever they dare try to mount an attack.
67 min: Barcelona keeping control now as their fans sing Allez Allez Allez.
65 min: Pajor comes on and almost instantly gets a yellow card for hacking down Leon.
62 min: This half feels far more even but it can't be taken in isolation from the first half. Wolfsburg make their first change in taking off Popp, who was cruising for a booking, and Ewa Pajor, a forward, comes on.
60 min: Putellas laid on a plate from Rolfo, to pass the ball into the net but her pass is misplaced.
59 min: Bonmati cuts into the box, bobs and weaves and fires wide. Barcelona want another and it will surely come soon.
57 min: Close for Wolfsburg. Popp squeezes the play and Huth misses the target with a lob over the posts. It was also perhaps offside.
55 min: Rough challenge from Popp smashes in then one from Jill Roord. Are Wolfsburg resorting to the dark arts to try and escape without an absolute pounding?
53 min: Good save from Schult after Wolfsburg are carved open. Torrejón blazes in and it comes off the goalie's shoulder. Such saves all count.
51 min: Barcelona corner, and Paredes flicks and Crnogorcevic taps in after Schult drops the ball. Barca's celebrations are halted by the VAR signal and the finding that Crnogorcevic had stepped a millimeter offside. That was tight.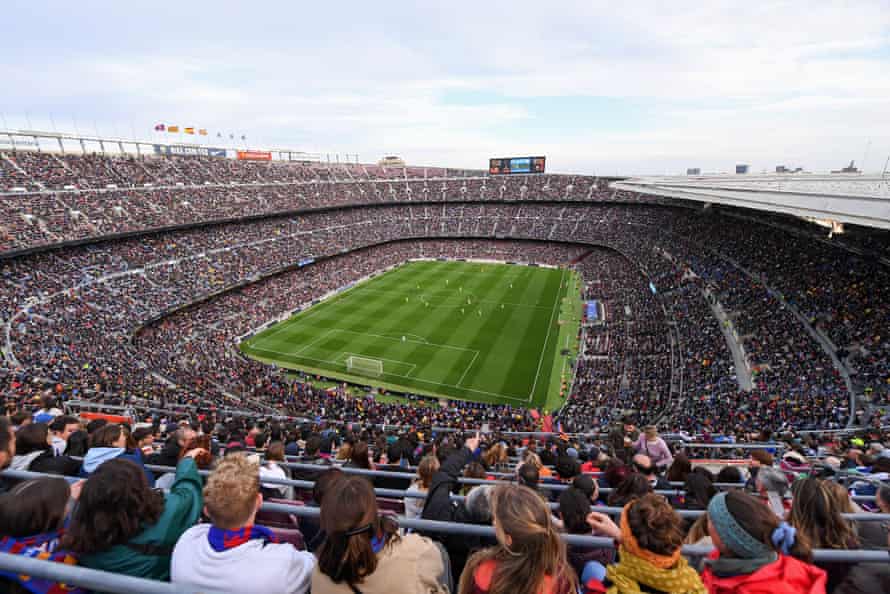 50 min: Barcelona continues to look for the long ball, passing it around short and then hitting Wolfsburg where it hurts most. Have Wolfsburg found more of a measure following the break? It's probably too early to tell in this half.
49 min: Huth is down for Wolfsburg, having taken one to the kneecap. That's gotta hurt.
47 min: Barcelona go on the attack once more, and Rolfo tries one from a distance as Graham Hansen sets her up.
46 min: We go again, though Wolfsburg will hope there is no more of the same. They do at least begin on the attack. No subs made at half-time.
Half-time: Barcelona 4-0 Wolfsburg
That was devastating from Barcelona, ​​and they went from the start, blowing Wolfsburg away with their speed of attack, the deluge started by those strikes from Bonmatí and Graham Hansen.
44 min: Barcelona looking to make it five as they push on for another. Wolfsburg clinging on for dear life.
42 min: Jonatan Giráldez, the Barcelona coach, looks annoyed about something. Who knows what, since his team are striding to victory in this tie, and probably this competition.