71 min: VAR checks whether Nketiah, standing in an offside position, was obstructing De Gea's view. Nope. The goal stands!
GOAL! Arsenal 3-1 Manchester United (Xhaka 70)
Arsenal claim a penalty kick for handball, Saka flicking onto the arm of Telles. They're not getting one. Never mind! The ball recycled back to Xhaka, who pearls one into the bottom right from 25 yards.
68 min: Tavares, increasingly all over the place, tugs at Elanga's shirt, and he goes into the book. One exasperated fan can be clearly heard screaming at Mikel Arteta: "We can all see it! Get him off! " Everyone's a critic.
67 min: Xhaka is booked for deliberately hoicking a dead ball into the stand.
66 min: Gabriel and McTominay enjoy some rough-house on the floor. An absurd wrestling match that seemingly sprang out of nothing, one of those incidents in which neither player did too much wrong, only for both to misinterpret the other's actions. It all calms down quickly enough.
64 min: Martinelli comes on for Smith Rowe. Then Tavares, seemingly hell bent on letting United back into this match, bundles into the back of Elanga, who was making towards the box from the right wing. Absurdly, no foul is given. It happened just outside the box, so as it isn't a potential penalty, VAR can't get involved.
63 min: For the second time in the game, Dalot rattles the woodwork! He bombs down the right and pearls a shot towards the top right. Ramsdale tips the ball onto the post, the ball twanging away. This continues to be one of the daftest games played in the Premier League in a long while.
61 min: Ronaldo looked miles off … but VAR shows that he wasn't. Just a couple of inches in it, White's trailing leg nearly playing him on. So close.
60 min: United keep the pressure on, though. Elanga threads a shot towards the bottom-left corner. Ramsdale tips away. McTominay shoots from a tight angle on the right. Tavares blocks. Fernandes then flicks a header down the inside-right channel. Ronaldo, his back to goal, swivels and sweeps a majestic shot into the bottom left. The flag goes up for offside, though.
58 min: A huge let-off for Tavares there. Penny for the thoughts of Ronaldo.
Fernandes misses the penalty!
57 min: A skip and a stutter. He sends Ramsdale one way … but clips the base of the left-hand post! Ramsdale celebrates wildly as Fernandes hangs his head.
56 min: VAR spends an age checking it. Why? It's as obvious as they come. Anyway, the decision's eventually rubberstamped. Fernandes to take.
55 min: The corner's hit long. Matic challenges for a header at the far stick. He heads the ball against the arm of Tavares. The referee instantly points to the spot. Why on earth was Tavares holding his arm high in the sky?
54 min: Sancho, Matic and Elanga take turns to run at White down the left. They win a corner. From which …
52 min: Saka has a go from distance. Another wild effort. Arsenal are seeking out the third goal that should seal the deal.
51 min: The ball trundles slowly towards Matic. He takes his eye off the ball and lets it roll apologetically out of play. So careless. From the resulting throw, Arsenal stream forward, switching the play to the left, where Tavares drops a shoulder to send Dalot sliding hysterically out of the game, cuts into the box … and skies an awful shot miles high and even further wide right .
49 min: Sancho goes on a dribble down the left touchline. He takes four men with him. He eventually runs out of road, but that was an exciting cameo.
47 min: Arsenal are on the front foot. United haven't seen much of the ball since the restart.
Arsenal get the second half underway. "Before you linked Eno I'd already stuck this on, former Death Cab For Cutie guitarist Chris Walla's tape loops album," writes Vince Ives. "A constant source of respite for me whenever Arsenal are defending a one-goal lead. I don't think the inside of Nuno's brain sounds like this. I think it sounds like white noise and thunderstorms and F1 cars. United would be having a better time if they could decide which full back to target. "
Half-time chill-out zone. Relax and float downstream. You'll need all of your energy for the second half.
HALF TIME: Manchester United 2-1 Arsenal
Fifty minutes of high-octane fun comes to an end. Just the three goals. It could have been 5-1, 2-6, or anything in between.
45 min +3: The corner nearly results in a goal … up the other end, as Arsenal counter, Odegaard powering a shot through a crowded box. De Gea saves well.
45 min +2: Ramsdale's distribution has been comically poor this afternoon. He shanks one out of play under no pressure whatsoever. From the resulting throw, Dalot aims for the top left from distance. Ramsdale redeems himself with a fine save. He goes to gather … only for Cedric, again under no pressure, to hack out for a corner! A total lack of communication and a whole load of panic.
45 min: … but they'll have to wait for it. There will be five added minutes.
44 min: The first drop in energy. Both teams perhaps dreamed of their half-time cup of tea.
42 min: A United corner leads to Odegaard taking a whack upside the head. A brief pause in play. Odegaard is checked and good to go.
40 min: Elneny steers a diagonal shot from the edge of the box towards the bottom left. De Gea extends to save brilliantly. From the resulting corner, Saka's shot from the middle of a melee is blocked. There is no way this match will end 2-1.
38 min: Incidentally, when Ronaldo scored – his 100th Premier League goal, by the way – there was no ostentatious celebration. Instead, he quietly and discreetly crossed himself before sending a kiss to the heavens.
36 min: Telles goes down, taking an accidental whack in the mush. An opportunity for everyone to calm down? Arsenal don't take it. Ramsdale and White exchange risky passes that very nearly let Sancho in on goal. They eventually clear. This game is absurd.
GOAL! Arsenal 2-1 Manchester United (Ronaldo 34)
United are back in it! Sancho feeds Matic down the right. Matic curls to the far post, where Ronaldo sticks out a telescopic leg to thrash home. Simple as that! Tavares and Gabriel were standing around doing nothing, mind, making things very easy for Ronaldo there.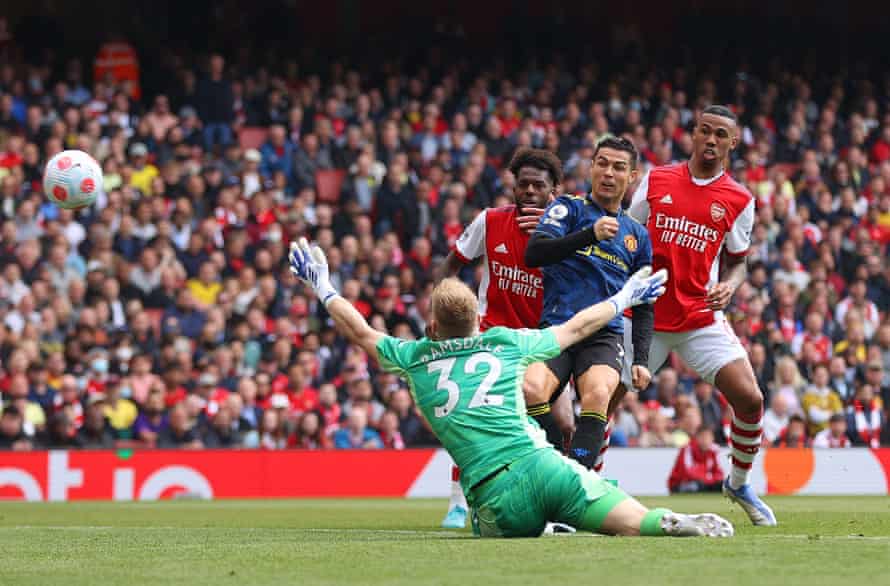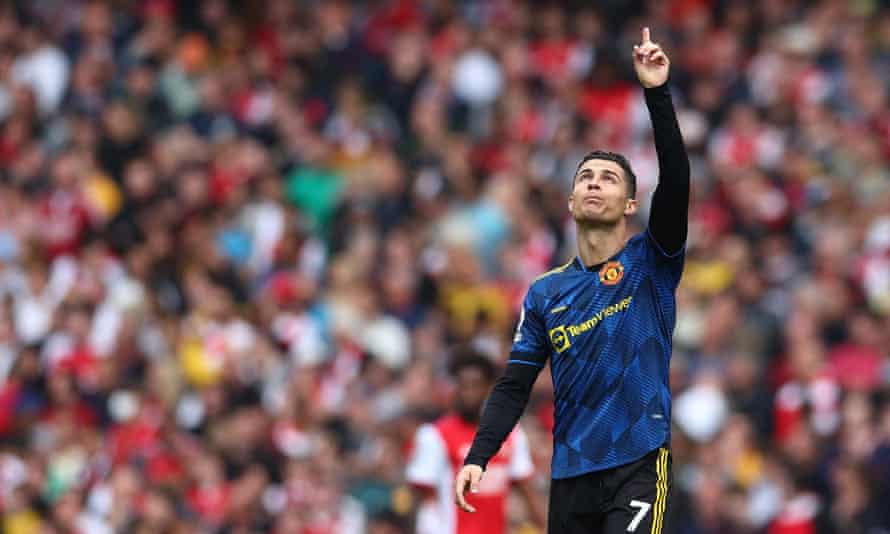 33 min: Fernandes has a long list of grievances, and he's reading them out to the referee. It's fair to say United aren't happy with the penalty decision.