33 min Leeds' afternoon goes from abysmal to worse as Everton score again at the King Power. They're not supposed to be able to play away from home!
30 min Raphinha's show of dissent has brought Leeds a dubious distinction: the all-time record for most yellow cards in a PL season. They're on 95, beating Sunderland's 94 in 2014-15. Norman Hunter would be proud of them.
29 min Marsch takes Joe Gelhardt off and sends Pascal Struijk on, so bang goes the idea of ​​Leeds treating attack as the best form of defense.
RED CARD! Luke Ayling (Leeds) 27
The ref, Chris Kavanagh, goes to the monitor and yes, it's a red. Plus a yellow for Raphinha for arguing about it.
25 min Luke Ayling takes out Martinelli near the corner flag, like something from the 1970s. He gets a yellow, but it looks very much like a red …
"Best teams?" says Cian O'Mahony, answering my question from the 14th minute. "Yes. It's not that long ago, is it? " Only 52 years.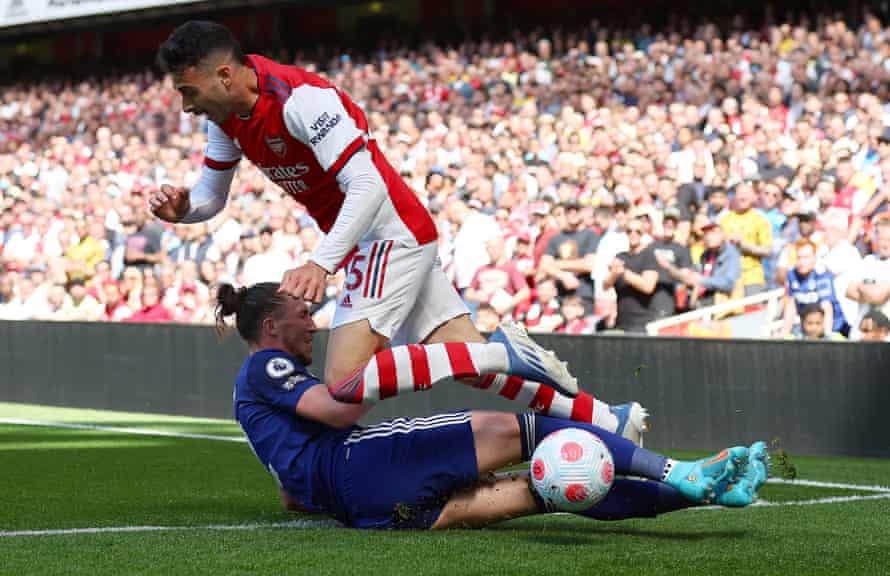 23 min Soares releases Saka with a chip down the right and it would be 3-0 if anyone had been there to tap into Odegaard's cut-back.
20 min Leeds have a good spell! Dan James, playing as a No 10 today, sneaks into the Arsenal box and then Leeds keep the ball for a whole minute before Raphinha's left-footed cross sails past the far post.
18 min Nketiah can sniff a hat-trick here. He just fails to get a hooked volley on the end of a curling cross from Martinelli.
15 min It's still one-way traffic. Meanwhile we have an email! "What do you think is the low bar for not celebrating?" asks Norrie Hernon. "I didn't think 6 months on loan was enough." Ha. At the risk of being dull, I'd say it was up to the player and how much his old club means to him.
14 min When Leeds lose, they tend to lose big. But there's a glimmer of good news for them – Leicester have equalized, so Leeds have just gone back to 17th, one point above Everton. Anyone else old enough to remember when Leeds and Everton were the top two teams in England?
GOAL! Arsenal 2-0 Leeds (Nketiah 10)
Another one for Nketiah! Made by Martinelli, who wriggles past three defenders and plays a neat cut-back. Nketiah has only to tap it in with his left foot, like Son at Anfield last night.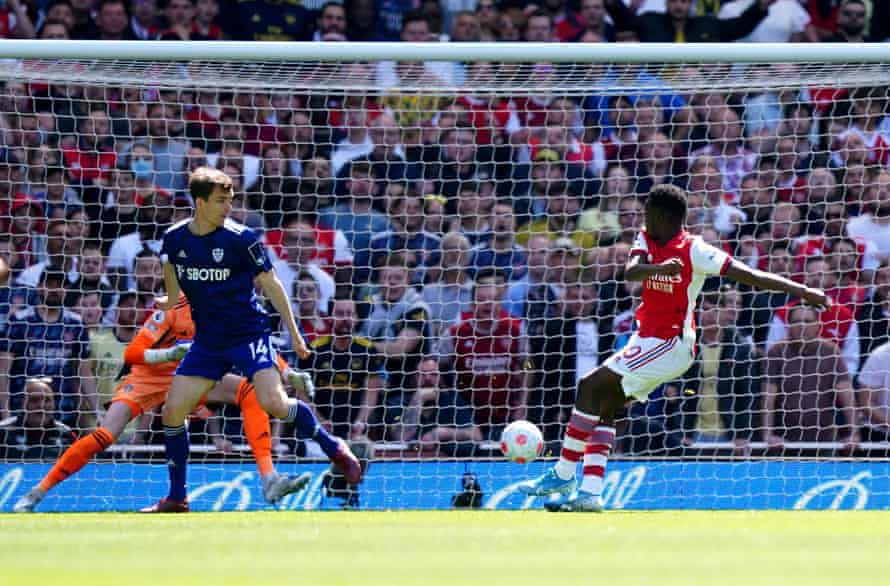 7 min To add insult to incompetence for Leeds, Everton have just gone ahead at Leicester. As it stands, Leeds are in the bottom three.
GOAL! Arsenal 1-0 Leeds (Nketiah 5)
Calamity for Leeds! Meslier dawdles on the ball and Eddie Nketiah basically scores with a tackle. He declines to celebrate against his old club.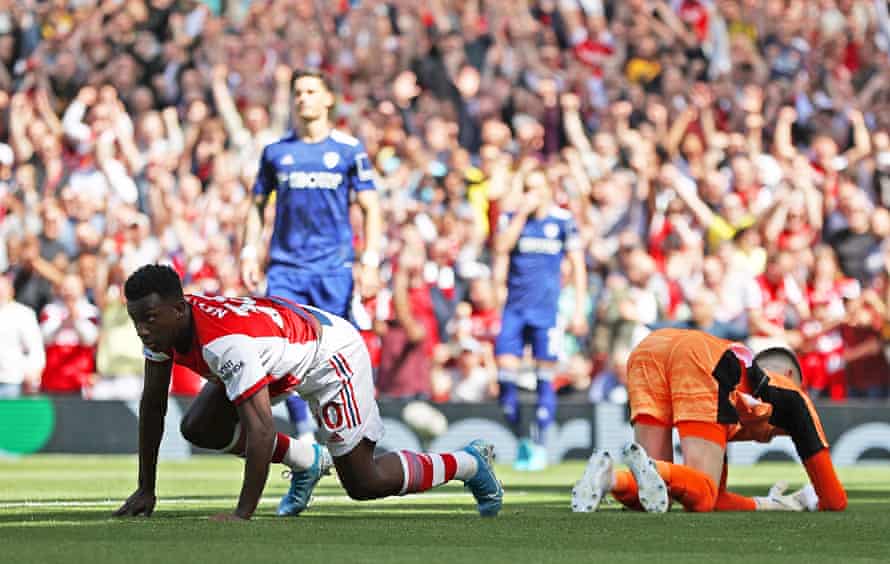 3 min The free kick hits the wall and balloons up, ending in Meslier's arms. Leeds get up the other end as Raphinha out-runs Tomiyasu, but nothing comes of it.
2 min Bukayo Saka runs onto a long ball and wins a free kick. Odegaard fancies this …
1 min A scruffy start as Gabriel hits a sideways pass out of play. It was aimed at Soares, who is at right-back with Tomiyasu on the left.
The sun is shining on North London. I should know: I'm just down the road, and my wife is in the stands. Reader, I married a Gooner.
Leeds fans' thoughts are with Stuart Dallas, who has a broken leg. This is the first league game he's missed since Leeds returned to the Prem.
Mikel Arteta is less forthcoming. Asked why he has swapped Tavares for Soares, he burbles something about every game being different and leaves us none the wiser.
Jesse Marsch is talking to Sky. "We just want to make sure," he says, "that we play brave." He notes that Arsenal have changed a few things – the sound of a man who has spent the week studying the Elneny-Nketiah axis.
Jesse Marsch makes two changes from the XI that lost 4-0 to Man City. Dan James and Joe Gelhardt, who both came on as subs then, start today, replacing Pascal Struijk and the injured Stuart Dallas. It's a more attacking side, which suggests that Marsch is eyeing all three points.
Leeds (4-2-3-1) Meslier; Ayling, Llorente, Koch, Firpo; Phillips, Klich; Raphinha, James, Harrison; Gelhardt.
Subs Klaesson, Hjelde, Bate, Struijk, Shackleton, Cresswell, Greenwood, Gray, Rodrigo.
Mikel Arteta's line-up is as expected, except that Nuno Tavares gives way to Cedric Soares at left-back. If Tavares is fit, it seems a bit harsh after he opened the scoring against Man United.
Arsenal (4-2-3-1) Ramsdale; Tomiyasu, Holding, Gabriel, Soares; Elneny, Xhaka; Saka, Odegaard, Martinelli; Nketiah.
Subs Leno, Tavares, White, Oulad M'hand, Lokonga, Patino, Smith Rowe, Pépé, Swanson, Lacazette.
Afternoon everyone and welcome to the battle for fourth in the Premier League – fourth from top, where Arsenal are sitting pretty, and fourth from bottom, where Leeds are feeling fretful. Arsenal should be in a simple two-horse race for the last Champions League place with Spurs, although Chelsea seem determined to turn it into a twisted love triangle. Meanwhile Leeds are the processed cheese in a Greggs sandwich between Everton and Burnley, and if it all comes down to goal difference they're doomed.
Leeds can hardly expect to win here after crashing to a 4-1 defeat in the reverse fixture, but they have to make sure they do no worse than Everton do today at Leicester. Thanks to Jesse Marsch and the new-manager bounce, Leeds' form has actually been better than Arsenal's over the past six games (11 points to nine). But it's been worse over the past three, as Arsenal have come roaring back from three perplexing defeats with crucial wins over Chelsea, Manchester United and West Ham. As the third-best home team in the league, they should sweep Leeds aside, but they may be distracted by the fact that they have a far bigger opportunity on Thursday – Spurs away.
Kick-off is at 2pm (UK time), and I'll be back soon with the teams. In the meantime, join Rob Smyth to see if Arsenal can win one league this season.